A Story of Internship at Ayana (Front Office Department)
My internship in front office department consists of three sub-departments: Guest Relations, Villa and Club. However, I also had my first three days at reservation to make me familiar with the system used. The staffs in AYANA were so helpful, caring and willing to share their knowledge, so I learn from them as much as possible.
GUEST RELATIONS
"By listening you may forget, by seeing you may remember. However, by doing you will understand."
This statement was shared by the Guest Relations Manager on my first work day and also become my favourite quote to be brave to try. As a reliable GRO (Guest Relations Officer), you have to know about all hotel facilities so that you can help the guests. Imagine, you have to memorize 16 restaurants and bars in AYANA & RIMBA, including its operational hours and what kind of food served; a lot of activities that can be enjoyed during stay in AYANA & RIMBA, including price and cancellation policy; the directions to certain outlets (I had lost several times!); and more. For additional information, AYANA and RIMBA are integrated resort so either AYANA or RIMBA guests can enjoy both facilities of these two hotels – bigger memory is needed as GRO! I took it positively, it enriched me as a trainee with wealthy knowledge and it felt good when you could share and recommended AYANA-RIMBA outlets to the guests and make their stay more memorable.
In BINUS University, I believe that you have been taught about the basic of how to escort and explain room facilities to the guests properly. However, in AYANA you will be challenged to adjust yourself with diverse guests. We should have observant eyes and genuinely-caring-heart to understand the guest conditions then adjust the explaination based on it. Put ourselves on guest position and deliver the information needed or interesting information for the guests.
In guest relations, personally I love the job because it made me have meaningful life by helping the guests and also the staffs. As AYANA has 290 rooms and it had high occupancy most of the time, it was super-duper-busy to be guest relations. All guests asked for assistance with various needs and wishing that somebody can help them. At this time, I also learned to work smart and practice teamwork from the Guest Relations team as they performed very well with it.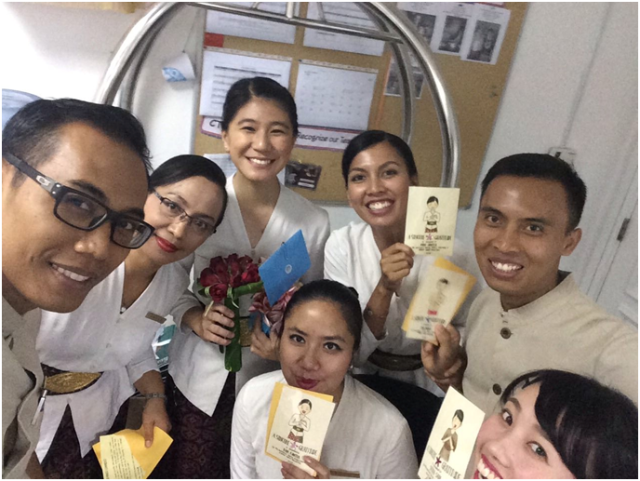 VILLA
If in the Guest Relations the variousity came from guests needs, then in villa the variousity came from different job assignments. I did not mean that the villa guests had no various needs, but they were attached with the butler for every their need. As a villa trainee, I was assigned in villa front desk, office coordinator, assistant butler, personal assistant and greeter. All days in villa were very interesting and 'colorful'!
During my insternship in Villa Department, most of the guests were Korean and Japanese guests. As most of them cannot speak English, I learned basic Korean and Japanese to greet and make them feel more welcomed. For some cases, different language made us did not understand each other, but somehow we used body language and it worked! It was so funny to remember the weird gestures we made but we understood!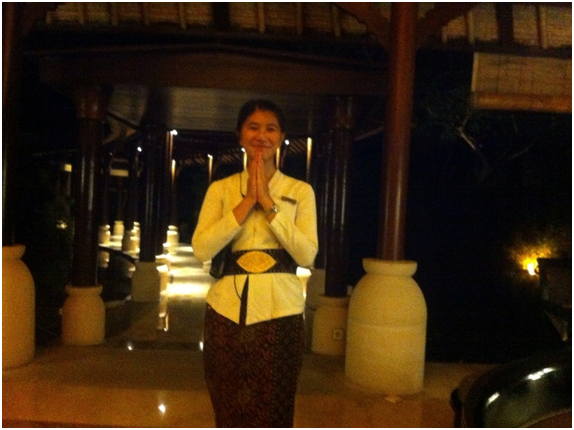 CLUB
Firstly, I did not know what club mean for this context in AYANA but now I know. If I were AYANA guests, I would definitely choose club room only for privilege access to the club lounge. The club lounge provides the club guests with five delicious food presentations a day – the guests can eat and drink as much as they want!
As a trainee in club, mostly I was in charged as a server instead of concierge. For me, it is a big deal because the server position is usually a part of food and beverage service department where different basic skills are needed. I should have another internship if I want to get experience in food and beverage department. Luckily in AYANA, the role is classified into front office department. So I experienced 2 departments in 1 department!
Although I was lucky to get this experience, I was struggling to adjust with this different role. I was so thankful that the seniors in club were so patient to teach me because I don't have any basic for food and beverage (I missed this subject in university due to student exchange). When I did a mistake, they said, "It is okay, as long as you want to learn and do not do the same mistakes." – such a thoughtful words from them!
In club department, I got a bigger opportunities to give more personalized service because the club rooms are less than hotel rooms and the guests often come to club lounge to eat. The examples of more personalized service I did to the guests are addressing by their names and knowing their preferences. It was awesome to get to know about them!
In conclusion, during my internship, I grew my confidence, developed teamwork, communication skills and other priceless skills. I realize this article will be very long if I write all my experience there. It is just so plenty and valuable! However, I hope this article will give you more insight on how internship life in AYANA and what responsibilities to expect as hoteliers. So, if you want to know all the experience, I challenge you to take internship in AYANA!
Thank you very much to AYANA Resort and Spa Bali for taking care of me and all trainees within this 6-month-internship. AYANA is not only a nice destination for guests on holiday, but it is also a nice destination for trainees on internship. I also thank BINUS University for developing me during these past years and providing me with the opportunity to take internship in AYANA. I can proudly say that I have grown so much, yet I am anticipating the next course and development from BINUS University.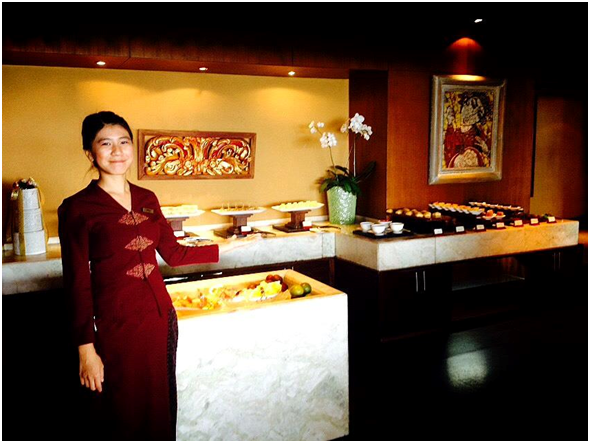 Last but not least, I wish everyone a successful internship and successful career in the future!
Best wishes,
Stella Nathalia Ignacia