THE WINNER OF BADMINTON CUP TARUMANAGARA SPORT COMPETITION 2014
Universitas Bina Nusantara (UKM Badminton) berpartisipasi pada Tarumaganara Sport Competition (TSC) yang diadakan pada tanggal 29-31 Oktober 2014 di Universitas Tarumanagara, Jakarta.
Hotel Management Universitas Bina Nusantara yang diwakili oleh Valencia Fergie (1701331463) berhasil menjadi pemenang Juara I kategori Tunggal Putri dalam Tarumaganara Sport Competition 2014 ini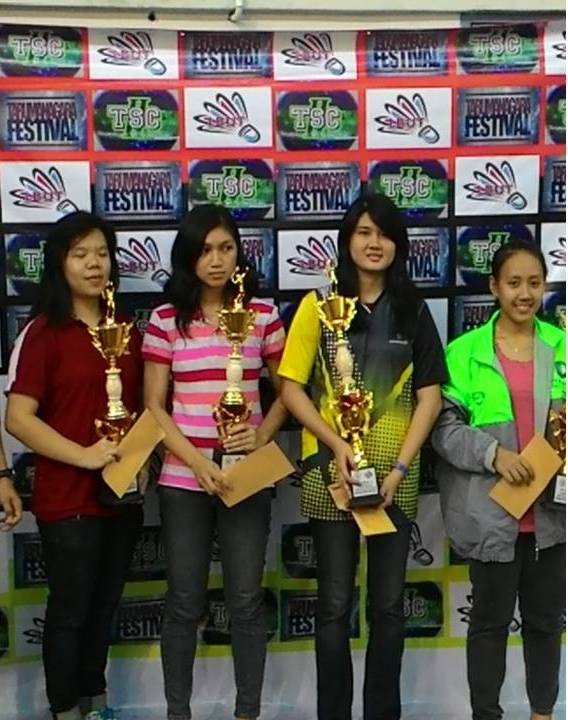 Tarumanagara Sport Competition adalah kegiatan tahunan yang diadakan oleh Universitas Tarumanagara. Biasanya, kompetisi ini diadakan hanya untuk internal lingkungan Universitas Tarumanagara. Namun, di tahun 2014, untuk pertama kalinya kompetisi ini dibuka untuk umum, namun terbatas hanya untuk kalangan mahasiswa saja
Tarumanagara Sport Competition mempertandingkan kategori tunggal putra, tunggal putri, ganda putra, ganda putri, dan ganda campuran. Sistem yang digunakan adalah sistem gugur, dimana bagi yang menang akan lanjut ke babak selanjutnya dan bagi yang kalah sudah tidak dapat melanjutkan ke babak berikutnya alias gugur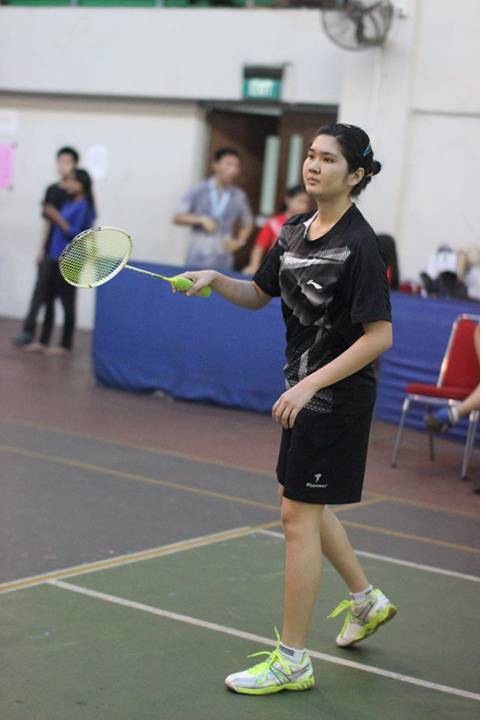 Terdapat 4 mahasiswa yang menjadi wakil dari Universitas Bina Nusantara, yaitu Valencia Fergie (Hotel Management), Septiandi (IT), Tanto Anggara (IT), dan Willson (Sistem Informasi). Kategori yang diikuti oleh para mahasiswa adalah Tunggal Putri (Valencia), Ganda Campuran (Willson/Valencia), Ganda Putra (Septiandi/Tanto), dan Tunggal Putra (Willson)
Binus University berhasil membawa pulang 3 medali sebagai berikut:
Juara 1 Tunggal Putri (Valencia Fergie)
Juara 1 Ganda Putra (Septiandi/Tanto)
Juara 3 Tunggal Putra (Willson)
Valencia Fergie sendiri berhasil meraih Juara I Tunggal Putri setelah berhasil mengalahkan wakil dari Universitas Krida Wacana (UKRIDA) di quarterfinal, wakil dari Universitas Tarumanagara (UNTAR) di semifinal, dan wakil dari Perbanas Institute di Putaran Final.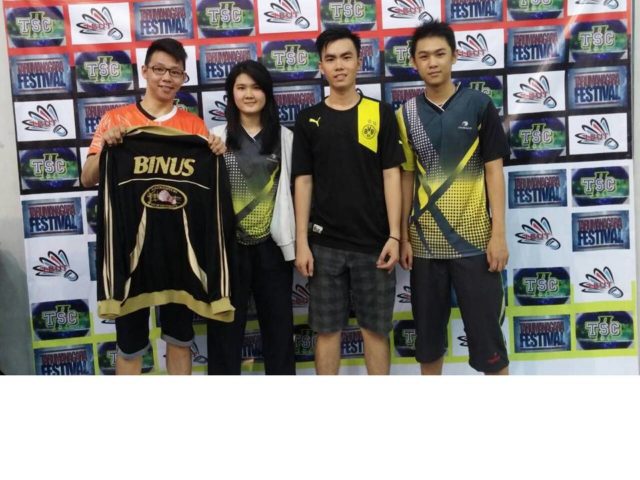 Daftar Universitas yang mengikuti Tarumanagara Sport Competition 2014 :
Binus University
Perbanas Institute
Universitas Pelita Harapan
Universitas Krida Wacana
Universitas Matana
Universitas Tarumanagara
STIE Trisakti
STT PLN
Universitas Surya
Universitas Pancasila
Universitas Bani Saleh
President University
Binus University Alam Sutera
Universitas Advent Indonesia