PASTRY COMPETITION HOSPITOUR 2016 INSIGHT
Hotel Management Universitas Bina Nusantara ikut berpartisipasi dalam HOSPITOUR 2016 INSIGHT yang diselenggarakan oleh Sekolah Tinggi Pariwisata Pelita Harapan (STTPH). Acara ini berlangsung pada 21-23 Maret 2016 dan bertempat di STTPH Karawaci, Tangerang.
HOSPITOUR merupakan acara tahunan terbesar yang diselenggarakan oleh STTPH yang selalu mengangkat tema berbeda. Di tahun 2016 ini HOSPITOUR mengangkat tema INSIGHT yang merupakan singkatan dari kata Improve Nature, Sustain & Innovate Green Hospitality and Tourism. HOSPITOUR 2016 INSIGHT mempunyai berbagai macam kompetisi di bidang Tourism dan Hospitality, antara lain Making Bed & Towel Art Competition, Table Set-Up Competition, Pastry Competition, Cooking Competition, Mixing Drink Competition, Front Office Competition, Speech Competition, Guding Competition, Tour Package Competition dan Futsal Competition
Hotel Management Universitas Bina Nusantara mengirimkan mahasiswa-mahasiswi untuk mengikuti berbagai kompetisi yang diselenggarakan dalam HOSPITOUR 2016 INSIGHT. Salah satu kompetisi yang diikuti adalah Pastry Competition, yang diwakili oleh satu tim. Setiap tim terdiri dari dua peserta yang terdiri dari Amanda Glennys M.D (1801407360) dan Nur Siti Ayu (1801410903)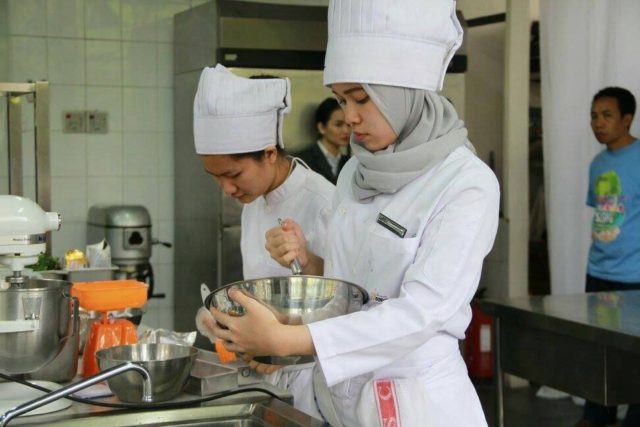 Pastry Competition kali ini merupakan perlombaan membuat kreasi dessert berbahan dasar utama coklat sesuai dengan tema dan ketentuan yang telah diberikan. Dalam perlombaan ini, tiap tim mengambil undian untuk menentukan tema dessert yang harus dibuat. Tema yang diberikan antara lain yaitu tanah, air, flora, dan fauna. Selain mengundi tema, panitia juga mengundi bahan dasar tambahan yaitu buah beet dan nanas. Panitia juga akan memberikan bahan tambahan yang bersifat kejutan yang akan diberikan saat lomba berlangsung. Setelah pengundian, tim BINUS mendapatkan bahan dasar buah beet dengan tema flora.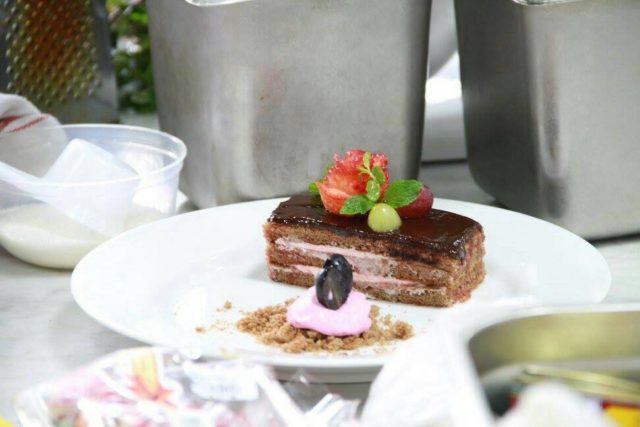 Tiap tim wajib membuat dua produk dessert, yang akan dinilai berdasarkan presentation, taste, timing, grooming, teamwork, dan cleanliness dengan tim juri yang terdiri dari tiga orang. Waktu yang diberikan untuk proses pembuatan yaitu 100 menit
Bahan kejutan yang didapat adalah pada saat lomba berlangsung adalah bubuk cabe. Tim Hotel Management Universitas Bina Nusantara membuat kreasi dessert yaitu Layered Chocolate Cake with Cream Cheese dan Beet Mousse.
Sukses selalu untuk Amanda dan Ayu atas partisipasinya dalam Pastry Competition HOSPITOUR 2016 INSIGHT