Ayana Hotel and Resort Goes To Binus University
Pada hari Selasa tanggal 04 April 2017, Bapak Danar Dewantoro datang ke kampus Binus Anggrek untuk mengadakan presentasi tentang Program Internship dan Management Trainee. Peserta yang ikut di dalam acara ini adalah mahasiswa semester 4,6 dan 8.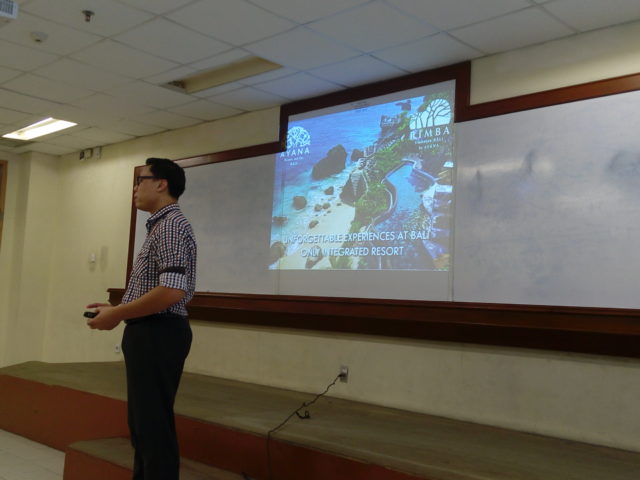 Tim dari Ayana datang ke Binus University pada pukul 11.00. Tim langsung dibawa ke ruang kelas untuk melakukan presentasi mereka. Pertama-tama, tim memperkenalkan diri terlebih dahulu lalu dilanjutkan dengan memperkenalkan secara mendalam tentang Ayana itu sendiri. Dalam acara ini dihadiri oleh mahasiswa dengan angkatan yang berbeda dengan tujuan yang berbeda juga. Mahasiswa semester 4 dan 6 mengikuti program internship, sedangkan mahasiswa  semester 8 mengikuti program manajemen trainee. Untuk program internship dijelaskan mengenai departemen apa saja yang dibuka untuk mahasiswa melakukan internshipnya, dijelaskan juga mengenai penilaian program training seperti apa, dan memberikan tips-tips untuk menjadi sukses. Untuk mahasiswa semester 8 yang akan lulus dijelaskan mengenai management trainee. Setelah lulus dari program ini, mahasiswa tersebut akan menjadi level yang lebih tinggi yaitu menjadi asisten manajer. Di akhir acara, dibuka sesi Tanya jawab dan dilanjutkan dengan mengumpulkan CV.