Guest Lecture : The Dharmawangsa Hotel, Jakarta
On Wednesday June 14, 2017, the representation from The Dharmawangsa Jakarta who is Mr. Alex Nayoan(General Manager), Mr. Yayat (Head Butler), Miss. Anna (Front Office Assistance). Our guests arrived in Bina Nusantara University and we gave them an introduction about ourselves and Binus. Afterwards, we gave them a brief campus tour about our facilities in Binus, especially to the facilities of Hotel Management such as the kitchen, restaurant/bar, housekeeping, JW Marriott room, and front office room.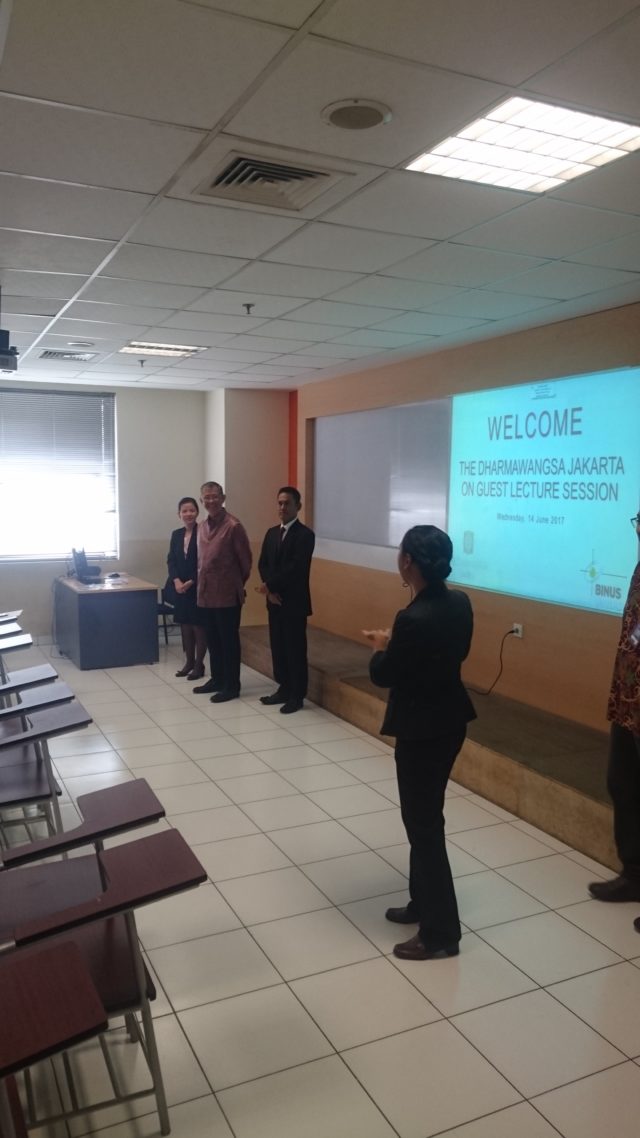 When we were giving them a tour about our facilities, there were some classes that were being held on. First we went to the kitchen and met some students that are practicing for an upcoming competition. After that, we went to the restaurant/bar classroom and turns out there is a class being held by Sir Darwin. We then introduce our representations to the class and talked about our class. Suddenly, Mr. Alex asked them a few questions and started to talk and share some of his experience to the class. The class was so hyped and excited hear Mr. Alex's story behind his past that got him to where he is now.
Secondly, we went to the housekeeping room and also there was a class being held by Sir Adit and we introduce our representations to the class and did the same things we did from the restaurant/bar class earlier before. Mr. Alex told and shared some experiences about him and tells the class the importance of housekeeping and what his weapons are for housekeeping, which are his fingers and saliva (spit). Because if there are no time and you are in a hurry, you will only need your fingers and saliva That's why this was his weapons for housekeeping. After that, we went to the JW Marriot room, then finally to the Front Office room.
Once we were finished giving them the tour about our facilities, we went straight to the 324 classroom and are ready to give the presentation that they have prepared for us.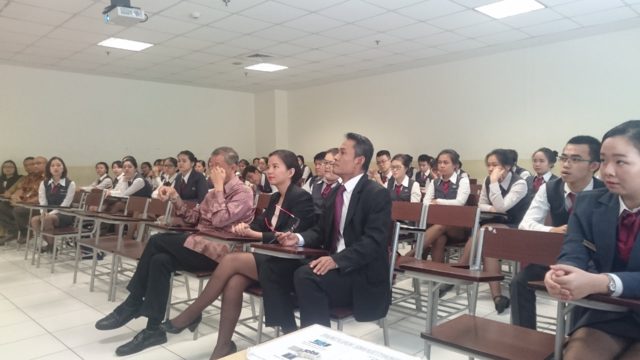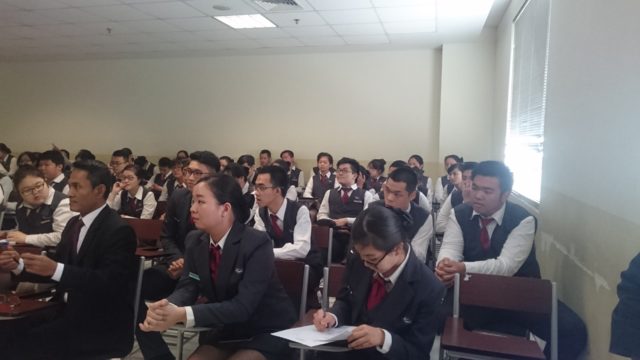 The first presentation was delivered by Ms. Anna. She talked about handling VIP guests and many. The way Ms Anna presented her material was great. She has a great personality and is soft, making us students feel comfortable through the presentation.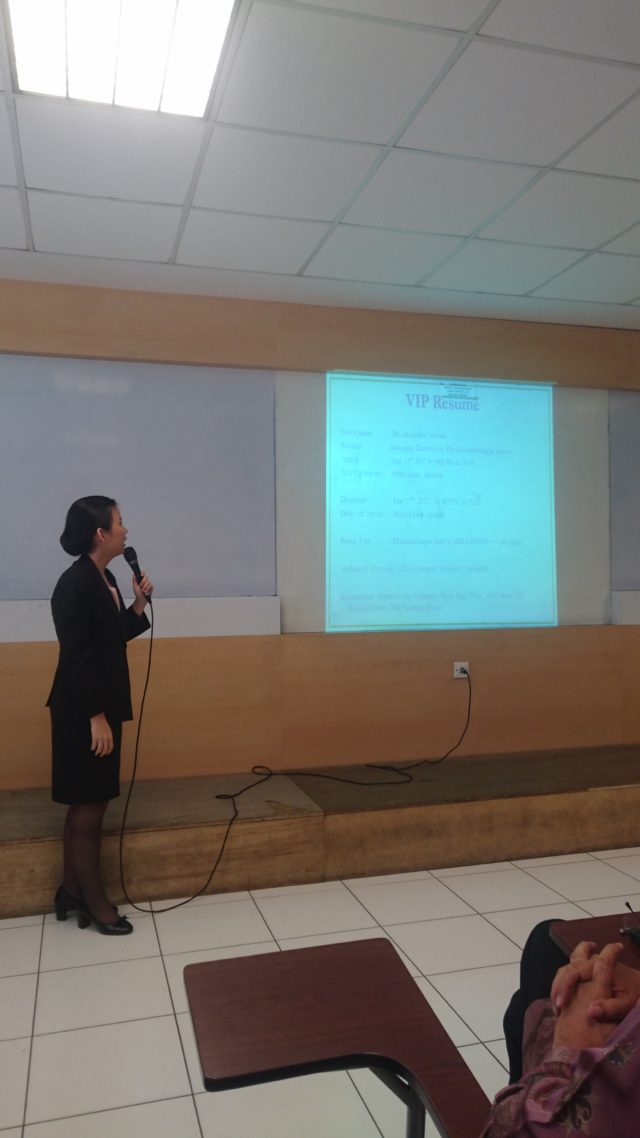 After Ms Anna, there was Mr Yayat who is a Head Butler of The Dharmawangsa Jakarta. He has had a lot of experiences handling different types of guests. He told us that any complaints won't bring him down easily. Mr Yayat is truly an expert in his job.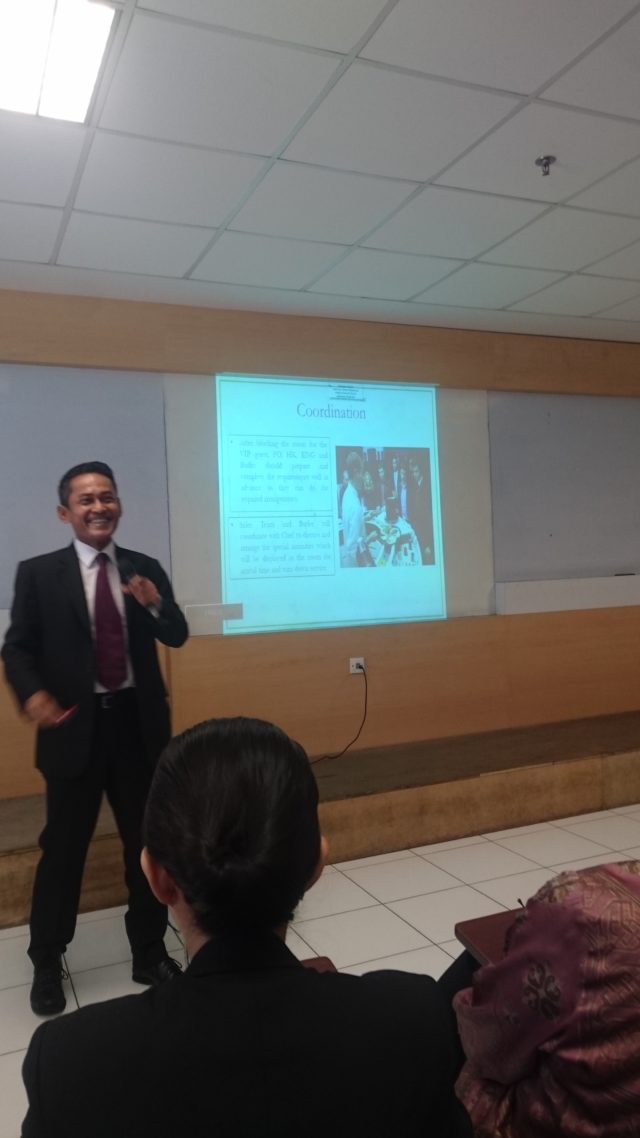 Last but not least, Mr Alex the General Manager of The D harmawangsa Jakarta delivered his speech. At first, we thought that Sir Alex was kind of stiff. But as he speaks and tell stories about himself, the way we see him changed. Sir Alex turned out to be a very nice person. He is kind, humble, smart and very funny. He made us laugh for almost all the time during his presentation. The way he delivered his material is not boring at all. That is what made us all paid a good attention and the guest lecture session ran smoothly.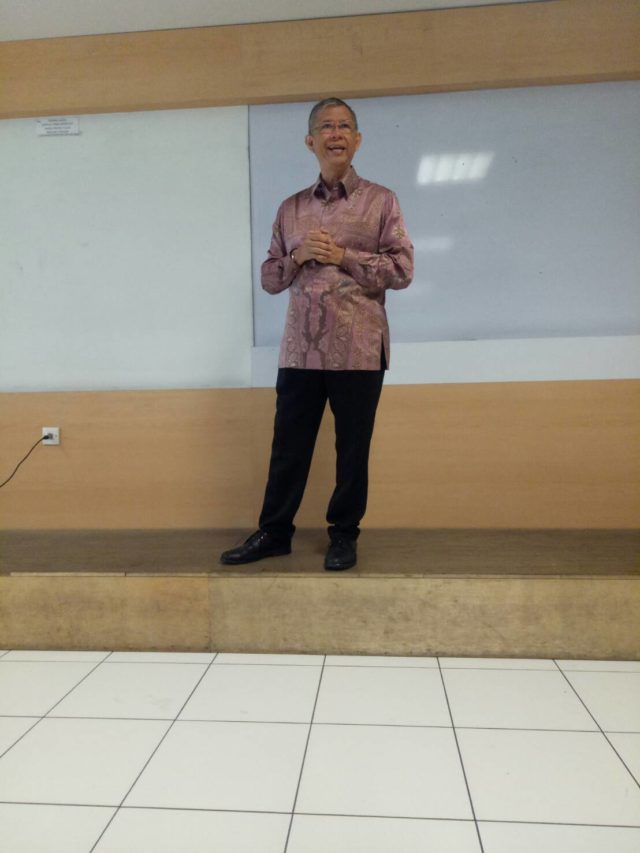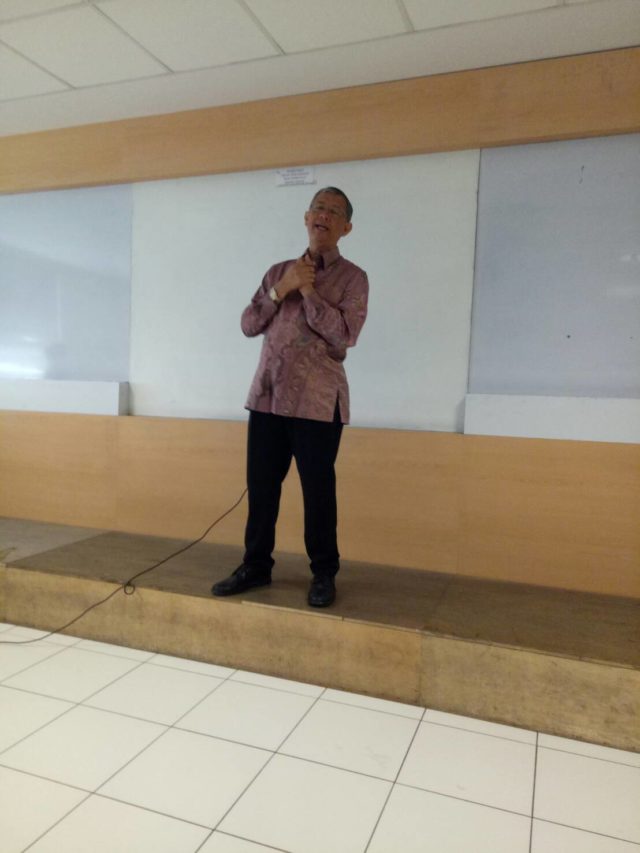 And for the very last session, it is the time for giving token of appreciation and taking pictures together to keep the memory stay.