Great Things Never Came from Comfort Zone
Hi! I'm Evani Evelyn S, I'm Binusian 19 . In this article I will share my experience when I participated in the Asean Skill Competition 2018 Regional Selection Competition.
One day Chef Nurul sent a short message to me and my friend Hana, to meet her because there is something to talk about. Honestly, that time I was nervous, because I have no idea what it is about hahaha
After arriving at BINUS, Chef Nurul informed us that there is a competition for asean skill competition. Asean Skill Competition is an event held every 2 years, which competes various types of skills such as Cooking, Fashion Design, Automobile Technology, Welding, and Air Conditioning. And ASC 2018 will be held in Thailand. Before leaving for Thailand, the participants will follow the selection of Regional Selection and National Selection.
At first I hesitated to follow Selekda ASC, because honestly I have more passion in pastry than cooking, whereas in this competition every participant must cook 3 courses namely appetizer, main course, and dessert. But at that time my sister and my brother strongly supported me to join this competition because this will be a good experience for me in the future and my senior (Ko Okta), told me that do I want to stay in my comfort zone? He also said that not everyone gets this chance, and do I want to waste this opportunity? Therefore I became challenged and finally I participated in ASC regional selection 2018.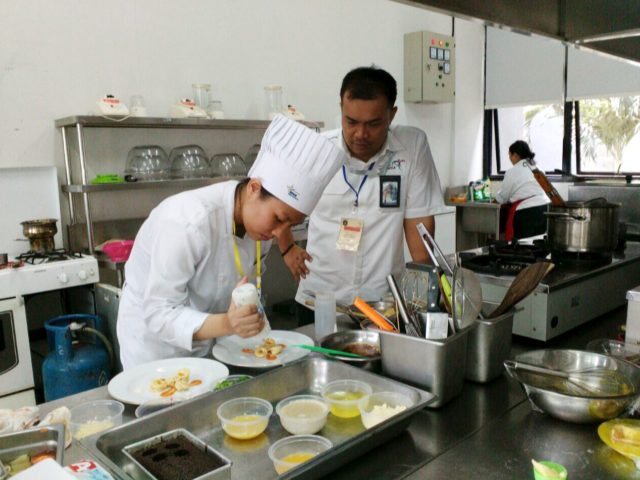 The challenge of the competition is I have to cook fresh pasta appetizer that requires me to make pasta from the beginning I.e. eggs, flour, etc. that is not simply made by boiling, with 2 kinds of sauce, Main course with 3 kinds of Vegetables and 2 sauces, and 3 kinds of dessert with 2 sauces, each Cuisine will be served for 2 servings, within 5 hours and only cooked with ingredients provided by the committee. And then me and my friend Hana start practicing in Binus kitchen trained by Chef Nurul, Miss Dianka, Ko Okta, Kak Astrid and Ci Mei, starting from trying some recipes to find the right menu, standard cooking, practicing the whole cooking within the time provided and also plating. In the early days of training, my foot had hurt until finally in the last practice the foot was numb because of standing in the kitchen from 7 am to 9 pm hahaha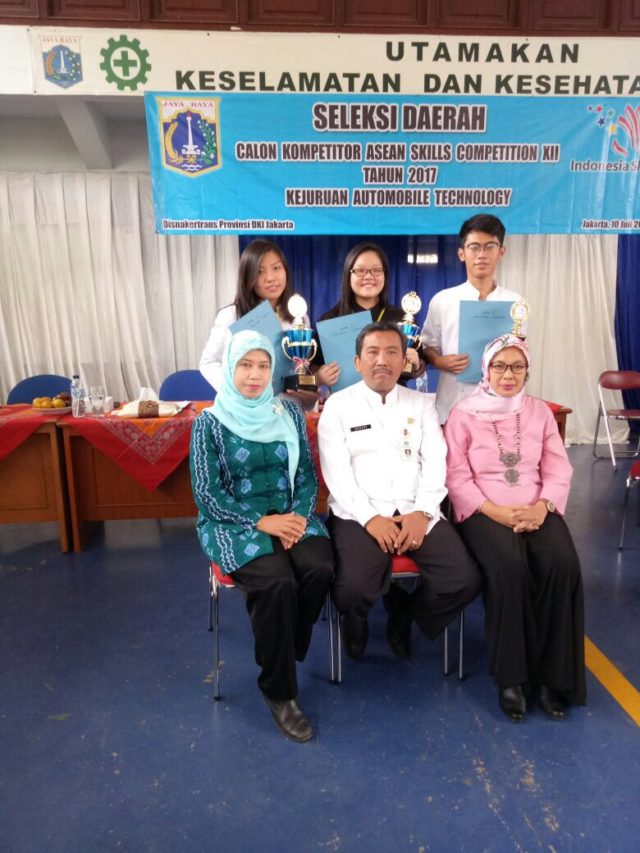 The day of competition finally came, the first day was used for briefing, and it came as a surprise because of some ingredient changes, one of which was an egg that initially got 1/2kg  per participant to 4 eggs per participant. And I was a bit surprised because in my menu I used 7 eggs because it requires me to make pasta and 3 kinds of cake for dessert. After the briefing I went to PPKPI in East Jakarta to see the kitchen that will be used for the cooking competition later and then I returned to Binus to meet with Chef Nurul and Miss Rachel to discuss the menu changes.
Then on the second day, I had left at 5 am from home, then headed to Binus and PPKPI East Jakarta, then took a written test and interviewed by 3 judges. And came the third day, the third day was the cooking competition. Something surprising happened again because I was told that the original cooking time of 5 hours is shortened to 4 hours only. I was honestly nervous, but that time one of the judges said whatever happened do not look at what others have made, just consider my cooking as the best because everyone has their own strengths. I became fired up and that morning the only thing that's important is that I finish my cooking, I leave it all to God, I am sure God will lead everything I do.
During the competition, me and the other participants enjoyed it because we made jokes and laughed, even though I was nervous because when I checked the ingredients there are some ingredients I need that are missing such as Dill, plain jelly powder, and other ingredients, when the jury shouted the remaining time for Cooking, and when Chef Donny observed the participants cook in detail one by one. But thank God I managed to finish my cooking.
That day I made my appetizer a Tortellini with Pomodoro Sauce and Parsley Sauce (supposed to be Dill Sauce but replaced with parsley), Main course Chicken Roll Vegetables with Mashed Potato, Mushroom sauce and Orange Sauce and for dessert Lemon Tart, Chocolate Cake, Custard Pudding with Butterscotch Sauce and Dragon Fruit Sauce. After cooking I feel very relieved to be able to finish my dishes, then me and all other participants are gathered in one room for briefing for the announcement the next day.
The next day I went back to PPKPI Pasar Rebo to hear the announcement. And I was really surprised, shocked, I was speechless because I did not expect that I would get 1st place. From the beginning when I decided to follow this competition, until I finished the competition, I never expect that I will win because my sister once said and always reminds me that "you have to be optimistic but not to be ambitious". Therefore, during the preparation to the competition, I never expected that I would win this because I think in every competition " There's no lose, either I win or I learn " the important thing is the experience I get. I practice and I believe that everything happens according to God's will no matter the outcome. And I always cultivate myself that "I am in competition with no one, I have no desire to play the game of being better than anyone, because it's not about being the best but it's about I am simply trying to be better than the Person I was yesterday ".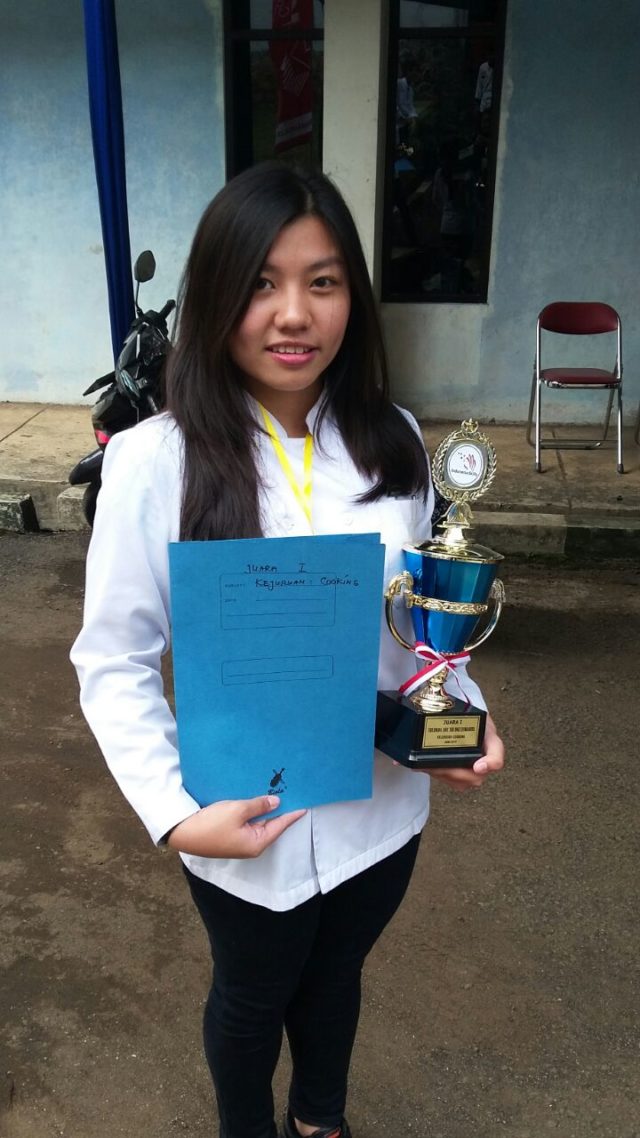 I would like to also say Congratulations to My Cooking Buddy Hana ! And I also thank God for always blessing me more than I deserve, to Binus who has given this opportunity to me, to Chef Nurul, Miss Dianka, Miss Rachel, Ko Okta, Hana, Kak Astrid, Ci Mei, all lecturers, My family and friends all who have been willing to take the time to train me, and support me. Because I will not be here without all of you.
Well … In addition to gaining experience, and knowing new friends in this competition, I came to realize that great things never come from the comfort zones. 
I hope that by sharing this experience, you readers will be more motivated.
" Don't ever give up . Don' let frustration knock you down . Don't let fear stand in your way . Don't ever compare your life to others . Because there's no comparison between the sun and the moon . They shine when it's their time . All for good and all is well ". Thankyou 🙂
With Love,
Evani .