THE 1ST PLACE FRONT OFFICE COMPETITION HOSPITOUR 2022
Sebagai salah satu keahlian di bidang vokasi perhotelan yaitu Resepsionis yang masuk dalam Departemen Front Office, maka perlu penguasaan keahlian untuk menjadi Resepsionis. Salah satu keahlian yang dilombakan dalam bidang Front Office Competition HOSPITOUR 2022 "RESET"  adalah handling complaint. Peserta kompetisi diharapkan mampu memberikan pelayanan yang baik dan menyelesaikan keluhan tamu terutama di masa pandemi ini. Peserta juga perlu membuat back-up video yang digunakan sebagai penilaian cadangan jika pada hari kompetisi terdapat gangguan koneksi internet.
BINUS Hotel Management yang diwakili oleh Calista Baby Evelyn Sigarlaki mendapat topik "how to solve missed wake up call"  untuk video yang dibuat sebagai back-up video.  Berikut adalah cuplikan videonya: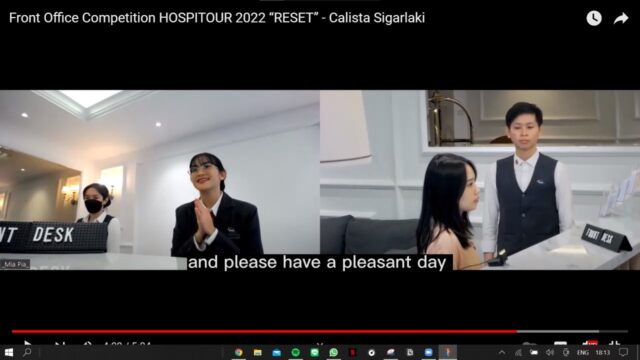 Dan pada hari Rabu 8 Juni 2022, saat live competition untuk handling complaint, Calista mendapat topik: "The Guest complaints to have upgraded room due to previous stay was upgraded since the room type is not available at that time". Calista menyelesaikannya dalam waktu yang ditetapkan yaitu tidak lebih dari 5 menit. Dari role play yang dilakukan, Calista mendapat tanggapan yang baik dari juri serta berhasil mendapat predikat Juara 1.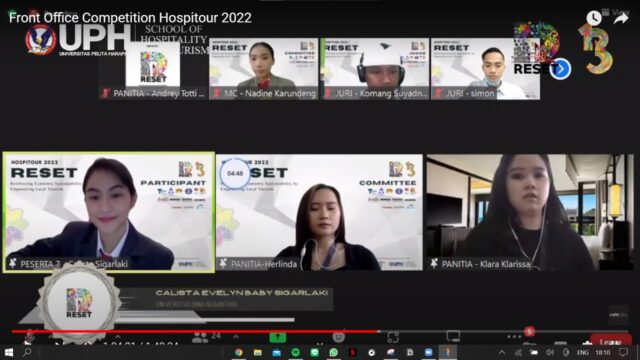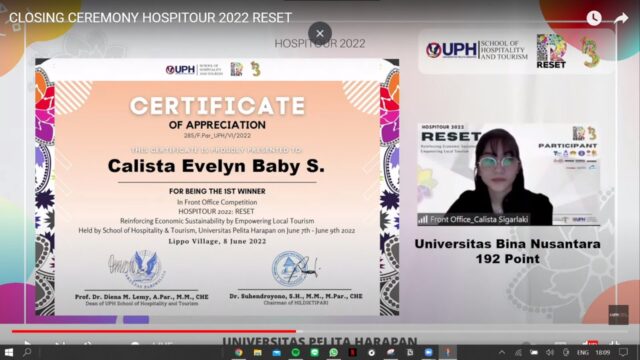 Selamat untuk Calista, Keep up the good work!