LET US GROW WITH YOU 2016 (Ritz Carlton Pacific Place)
To start the Let Us Grow With You Week 2016 Ritz Carlton held School Appreciation Day to give an Appreciation Certificate for schools who usually become partner on internship program both for Ritz Carlton Pacific Place and Ritz Carlton Jakarta Mega Kuningan. The occasion held in Glass House, 8th floor, Ritz Carlton Pacific Place.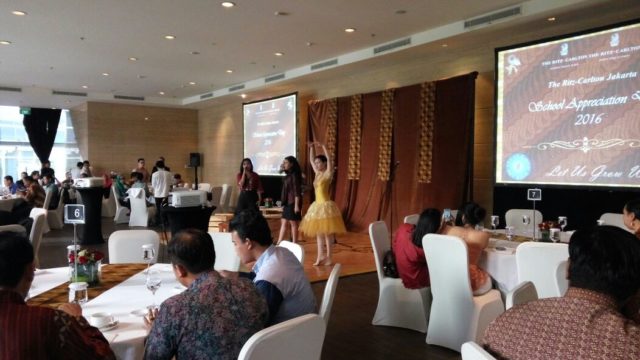 Pretty much same with previous year, the occasion was showing testimonial from previous trainee who now join Ritz Carlton Pacific Place as a staff then continued by hotel tour. Some facilities and hotel room is shown to school representatives to give the description of the real field for internship program.
The school representatives were entertained by their trainees who performed ballet dance and singing. The ballet dancer is Naomi Hosana (Binus student). The occasion closed by a courteous discussion among the school representatives by enjoying light meals.