Bachelor of Applied Science in Hotel Management was established in 2008 and aims to offer a vocational education for a successful career in hotel industry.
The program provides expertise in food & beverage division and room division with two streaming programs to be chosen; Culinary Art and Hotel Operation Services.
The program also provides comprehensive management as well as valuable knowledge, skills and attitude to form competitive student competencies. Students will also gain an insight of hospitality industry through one year of industry work experience in four to five star international and multinational hotels; domestic and overseas. Compete in various international and national hospitality competitions becomes another must have achievements. In extent to that, international experiences such as study abroad, guest lecturer, seminar, and workshop supplement into teaching and learning activities are given.
Hotel Management hold both National Accreditation (BAN-PT Accreditation "A") and International Certification (TedQual from United Nation World Tourism Organizations) to ensure the best institution standards in pursuit the best education for the students. This is in line with the curriculum that has been reinforced with international and local contents to fully equip graduates for managing diverse hotel operations, followed with high employment rate in multinational and global hospitality company and food & beverage startup. Hotel Management graduates are certified in hospitality competencies from Indonesian National Professional Certification Board.

Hotel Management BINUS is solemnly committed to adopt  and to implement the 10 principles  of  the  Global  Code  of Ethics for Tourism (GCET)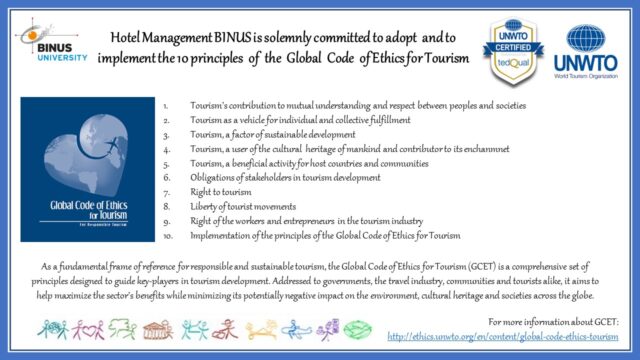 Global Code of Ethics for Tourism general information:
https://www.unwto.org/global-code-of-ethics-for-tourism
Global Code of Ethics for Tourism (English):
https://webunwto.s3.eu-west-1.amazonaws.com/imported_images/37802/gcetbrochureglobalcodeen.pdf
Global Code of Ethics for Tourism (Bahasa Indonesia):
https://webunwto.s3.eu-west-1.amazonaws.com/s3fs-public/2019-11/indonesia.pdf