'Siver Medal is Our Bonus….'
Hi, in this article, (Hana Dessy Natalina, Evani Evelyn and Astrid octavia) we would like to share our experience when we participated the 5th Junior Asian Chef Challenge – The 11th Indonesian Salon Culinaire 2017.
At first, (Hana and Evani) we were chosen by Chef Nurul to participate in a competition in Salon Culinaire. Salon Culinaire is one of the most prestigious competition with participants coming from many different countires who are already professionals in their field. In Salon Culinaire this time we intend on joining pasta class, but due to our tardiness in registering and full quota in the pasta class, we decided to participate in the Junior Asian Chef Challenge instead. In this class the terms are each team should consist of 2 junior asian chef and 1 team leader. At first we were confused with who to pick as our leader, then Chef Nurul introduced us to one of our senior who won at Bali 9th Salon Culinaire – Pasta Culinary Junior Challenge, which is Astrid
When chosen as team leader,  (Astrid) I was surprised and feel challenged because this was a new experience for me to be a team leader which means I'm responsible for training and leading a team.  Due to being a first time team leader,  l looked for information from seniors and friends who was a team leader before.  Finally,  l accepted Chef Nurul's invitation to be team leader.
We met up with Chef Nurul to decide the theme of the dishes we will be cooking in Salon Culinaire this time.  After discussions,  we decided to make dishes originating from West Sumatera in Indonesia,  specifically,  Padang dishes.  the menu for our dishes are Sate Padang for appetizer,  Prawn Spaghetti with Gulai Sauce for main course and Ketan Sarikayo for dessert,  all the dishes were served with fine dining concept.
A few days later,  we started training and experimented with the standard for our dishes.  We were training almost everyday for a month so we could master the kitchen and dishes we were cooking.  Each time we train,  we always woke up at 3.30 A.M.  to shop for ingredients,  arrive at 7 A.M.  in the kitchen,  then we prepare the ingredients and kitchen utensils we would use.  For about one and a half month we trained at least the times a week.
During training,  we received many tips and advice from Chef Nurul,  Astrid and our majors lecturers.  We were standing for around 10 hours and sometimes even 12 hours every time we train.  We were tired and panicked because the day of competition is coming closer but we are still changing the concept of our dishes and our plating to get the maximum result.
On the last day of training we felt more anxious.  We were worried we couldn't master the changes made on our dish,  we were also tired and made us even less confident.  Chef Nurul and Astrid were still trying to lift our spirits,  they said that it doesn't matter if we win or lose,  what matters is the experience.  Winning is only a bonus,  so don't think about winning yet.
Although at first Astrid was overwhelmed by leading us because we haven't mastered the kitchen and were confused due to participating for the first time in a live cooking competition, where we have to make 3 kinds of dishes,  4 portions each in 2 hours.  In the end we managed to master the kitchen,  the dishes,  as well as achieving or target time.
The day finally came,  at 4.30 A.M.  we were already on standby on our kitchen lab in Binus Anggrek to check our ingredients and tools we will be bringing along with us to JIExpo Kemayoran.  On our way,  we made some changes to our plating and we drew it on a piece of paper.  When we arrived,  we got anxious seeing our competitors who came from many different kinds of places and countries.  We were also the only participant who came from a university,  while our competitors came from hotels,  restaurants and even culinary academy which was already professional.
Before the start of our competition,  coincidentally,  we met one of our senior from Hotel Management major in Binus who has already participated in many live cooking competitions, specifically,  Salon Culinaire.  She told us not to get nervous,  being nervous doesn't do anything,  just consider that we are in a playground.  the competition starts and we didn't feel nervous at all during the competition.  We enjoyed participating in the competition. We even laughed and sang together. The judges smiled seeing us enjoy our time and seeing our behavior even though we are in a competition.
After the competition, we listened to feedback from the judges. Their feedback for us were good. After waiting for a few hours, the result for the competition was posted, We were overjoyed and surprised to see that we won the silver medal. We were very pleased with the result, especially since its our first time participating in a live cooking competition.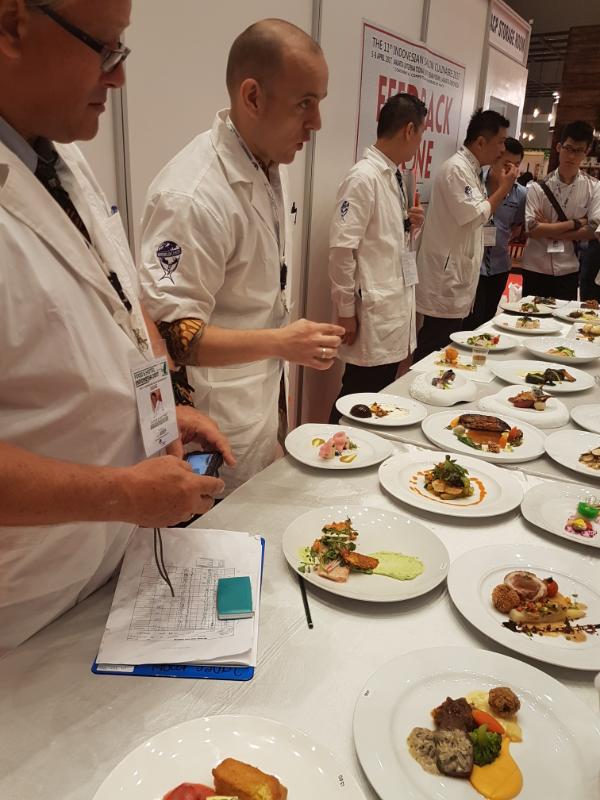 We felt very thankful and grateful to God for always blessing us and giving us this wonderful gift in the competition, as well as Hotel Management in Binus University for giving us the chance and trust to participate in this competition, We were also grateful to our lecturers especially Chef Nurul who gave us a lot of guidance, tips and support from the start until the end of the competition and also thank you to family and friends who supported us in this competition.
Our experience on participating Salon Culinaire is very precious to us. Not only did we get a lot of knowledge and experience, we also met a lot of people. If we didn't participate in this competition, (Hana, Evani and Astrid) we would not know each other and be as close as we are now. With this competition we also learned to work with each other.
We hope the experience we shared could motivate our reader to never give up on fighting for what you want to achieve, because no sacrifice will go in vain.
Thank you 😀
-Hana, Evani, Astrid-