Memorable Moment in JW Marriott Hotel Jakarta
My second time of internship is as awesome as my first time in The Ritz-Carlton Jakarta Mega Kuningan. I choose another hotel of the biggest hotel property in the world, Marriott property, in JW Marriott Hotel Jakarta. JW Marriott Hotel Jakarta is an old hotel with lots of history. In here, i got opportunity to learn and grow as Executive Lounge trainee.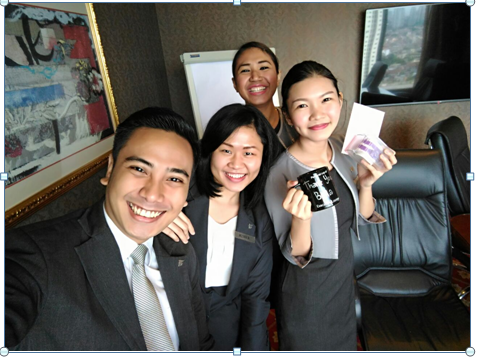 Eventhough Executive Lounge counted as in Front Office department, they also do food and beverage services. So,i got opportunity to learn two things in one change which is awesome. At first, i learned more about food and beverage services. All i need to is set up buffet, take guest's order, do inventory of every items that needs to be ordered for daily operations, and input all items we need using Material Control system. I am familiar with the Material Control system since i used to work with it, but it's different in here.  All the items was separated in to 4; commisany for cold items, store food, store beverages for alcoholic beverage and gather usage for non alcoholic beverage. After i am good enough at food and beverage services, my manager and supervisor taught me about all of the front office task do in Executive Lounge.
Every month, the Training Coordinator, Mr. Ahmad Riyanto conducted trainee gathering for every trainee. In trainee gathering, the trainees will got enrichment about many things and we also can express our opinion and idea regarding department working performance.
I always think that in Executive Lounge there won't be lots of guests, but i was totally wrong! There were many times when we have lots of guests and it was so hard to be handled and to fill the guests needs. I also made mistakes by making a guest upset because his order came late. But because of that incident, i learned and grow more.
In October, there was a great program as an appreciation for all the associates called JW Stars. The program was created to increase associates productivity in guests engagement and to create more memorable moment with the guest. Everytime guests write good comment in Guest Voice or social media, we will get 15 points. All the points can be redeem with cake of the month, dine in at Sailendra Restaurant or Pearl Chinese Restaurant, free stay, and many more.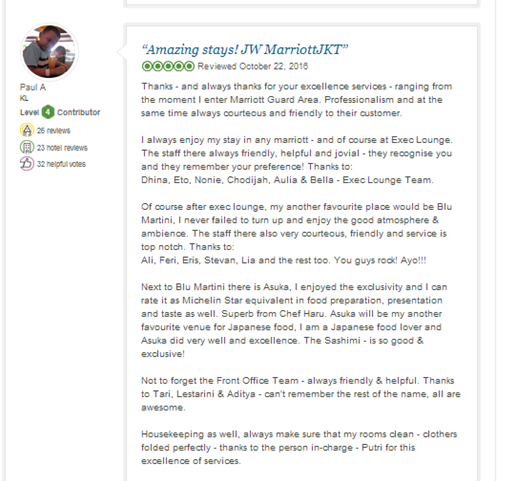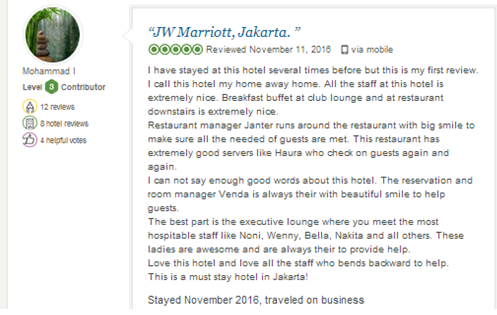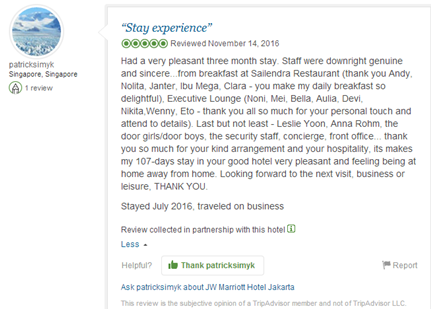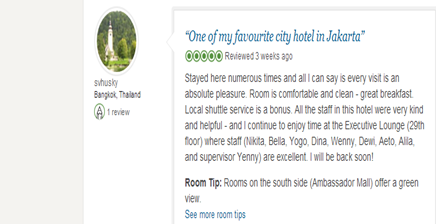 After some times in Executive Lounge, i got to know many guests and their preferences. I could communicate well with the guest and made memorable moments with them. And my name was mentioned for good comment by guests many times. I got 105 JW Stars points until the last of 2016. I was in the second place of all the Executive Lounge associates. Never imagine that i could beat the staffs! I redeem all of my JW Stars points to have 2 vouchers of cake of the months and a voucher of dine in at Sailendra Restaurant.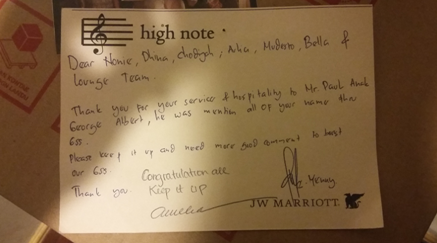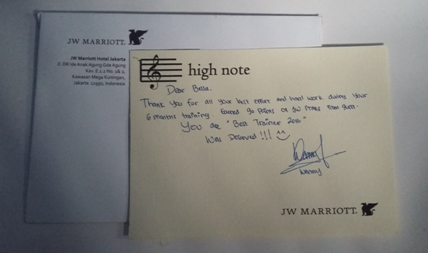 All the associates in JW Marriott Hotel Jakarta are friendly and kind, especially in Executive Lounge. They always help me out and letting me to learn and grow more. They always look after me when i was not feeling well and they know well all of my preferences. Even when i was not feeling well they always took care of me.
On 16th of December, we had trainee farewell party that was held by the human resources. We were allowed to brought our teachers to come to the trainee farewell party. On trainee farewell party, all the trainees divided into three groups and they perform something. On trainee farewell party, the human resources also annouced the best trainee from back of the house and front of the house. Surprisingly i got choosen as best trainee from the front of the house! I was so happy for received such honorable title. Mrs. Vinda, Front Office Manager also gave speech and congratulate me. The human resources team gave me the JW Marriott Hotel Jakarta neck-pillow, voucher of MAP, and they also gave me the best trainee certificate.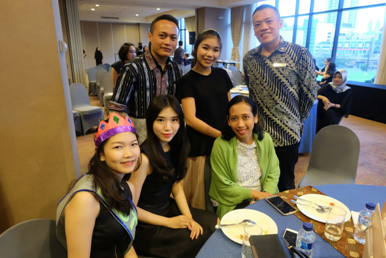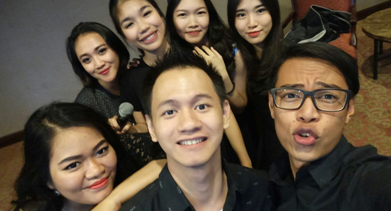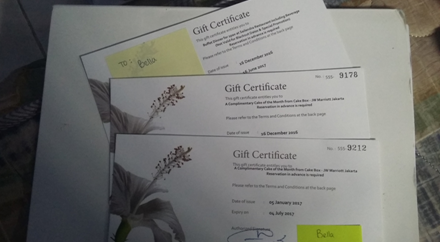 I got so many things from JW Marriott Jakarta and i am so thankfull for having my second internship in here. I would like to thank BINUS University and all of the hotel management teachers for the knowledge they gave to me and for the help so i could had my second internship in JW Marriott Hotel Jakarta.
Best Regards,
Bella