Best Trainee Holiday Inn Jakarta Kemayoran 2017
Supriyadi Limantara mahasiswa Hotel Management Universitas Bina Nusantara peminatan Hotel Operation Services semester 7 berhasil mendapatkan penghargaan Best Trainee di Holiday Inn Jakarta Kemayoran pada Front of The House Department untuk periode Juli – Desember 2017.
Job Training adalah program magang di industri yang merupakan program wajib bagi seluruh mahasiswa Hotel Management. Program ini dilakukan dengan durasi 6 bulan sebanyak dua kali pada industri hospitality yaitu hotel maupun restoran. Untuk peminatan Hotel Operation Services, job training dilakukan pada semester 5 dan semester 7, sedangkan untuk peminatan Culinary Art dilakukan pada semester 6 dan semester 7. Program Diploma IV Hotel Management Binus dirancang memiliki skema pembelajaran didalam kampus selama 3 tahun dan skema pembelajaran diluar kampus yaitu program magang/ job training selama 1 tahun. Melalui skema pembelajaran 3+1 ini, mahasiswa diharapkan bukan hanya mendapatkan bekal akademik, namun juga kemampuan (skills dan kompetensi) sesuai dengan standard pada industri perhotelan.
Selamat untuk Supriyadi Limantara atas prestasi yang membanggakan.
Berikut dokumentasi Supriyadi selama job training di Holiday Inn Jakarta Kemayoran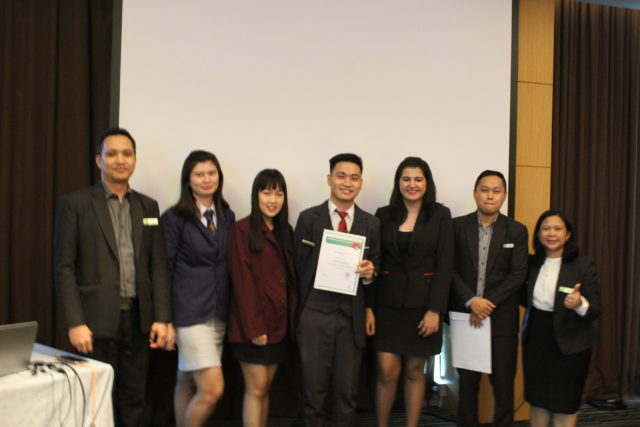 Supriyadi (tengah) saat penyerahan penghargaan Best Trainee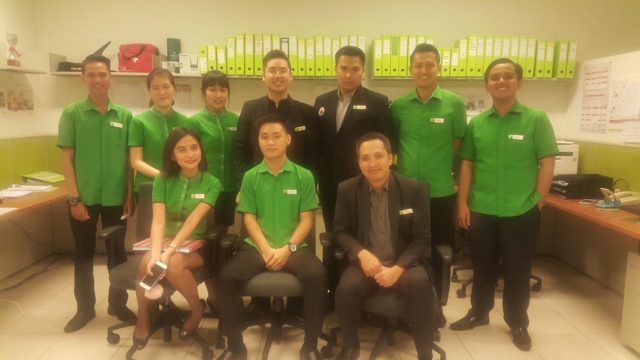 Supriyadi (tengah-barisan depan) bersama rekan kerja di Front of The House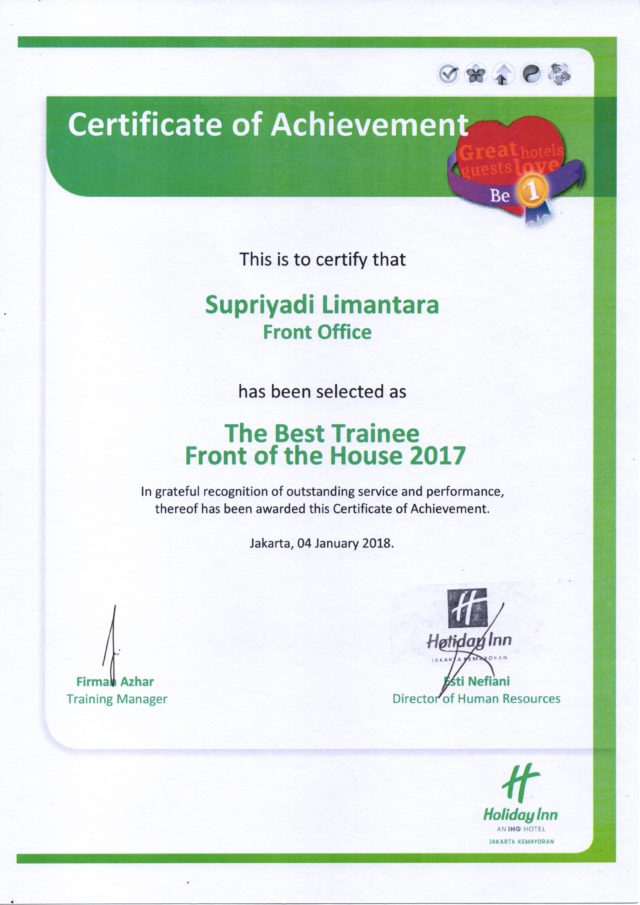 Sertifikat Best Trainee