Alila Uluwatu, The Second Home for the Last Six Months
Nama saya Yesica Theresia angkatan Binusian 2017. Pada tahun ini saya sedang menjalankan training kedua saya di Alila Villas Uluwatu departemen Front Office. Untuk saya Departemen Front Office sangatlah baru karena pada training sebelumnya saya berada dibagian F&B Service department. Pada 2 bulan pertama saya ditempatkan di bagian Villa Host (Butler), 2 bulan selanjutnya saya ditempatkan di Resort Host (Receptionist) dan sekarang di 2 bulan terakhir saya ditempatkan di Communication Host (Telephone Operator).
Pada periode Juli 2016 – Januari 2017, saya bersama Novia Putri dan Richardo mewakili Hotel Management, Binus University.
Pengalaman dan pembelajaran yang saya dapatkan selama 5 bulan sudah perjalanan training saya di Alila Villas Uluwatu sangatlah banyak dan berkesan karena Saya diberikan kesempatan untuk mempelajari How to handle Check in and check out, make a reservation for guest, giving explanation of public area and room facilities, handle money exchange and learn about Opera, etc) . Di Alila Villas Uluwatu , kita harus bisa mengetahui nama dan mengingat wajah tamu karena konsepnya yang Villa. Bagian yang paling menyenangkan dan berkesan adalah ketika saya menjadi butler karena saya mendapatkan kesempatan untuk belajar bagaimana cara melayani tamu dari Check-in hingga tamu tersebut check-out.
Di Alila, trainee tidak diposisikan pekerjaannya sebagai trainee tetapi kami benar-benar diposisikan seperti team member Alila dan diberikan kesempatan untuk mempelajari banyak hal tentang operasional Front Office sehingga Saya sangatlah merasa nyaman selama menjalankan training di Alila.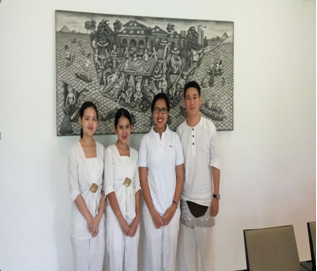 -Yesica Theresia-