Do The Best and Let God Do The Rest
Hello, my name is Devina, I'm Binusian 2019. In this article, I will share my story while I participated in "Australian Grass-fed Goodness Cooking Competition".
            One day, one of my lecture named Chef Nurul asked to me if I want to join this competition or not. I'm a little bit nervous but excited, so with a big smile in my face, I said "Yes" to her. Honestly, because this is my very first competition that I join, I'm a little bit worried about what am I going to do next. I'm clueless. But, day by day, Chef Nurul, Evani and Hana never give up on me and always supporting me while I'm practicing. It's not an easy thing you know, but the more I feel down, the more people support me. And I never want them to get disappointed. So, I'm doing my best and let the God do the rest.
The Government of Victoria, Australia, is running a promotional campaign in Indonesia to promote Australian grass-fed red meat. The Victorian Government, in collaboration with the Ritz Carlton – Pacific Place is pleased to organize "Australian Grass-fed Goodness Cooking Competition". The objective of the event is for the students who will be the next generation chef of Indonesia to be aware of grassfed beef and have the skill to handle and process it well. The competition will involve leading Tourism and Hospitality Schools in Indonesia and will be led by Chef Alejandro Saravia from Melbourne. The event will be held on Monday, 30 October 2017.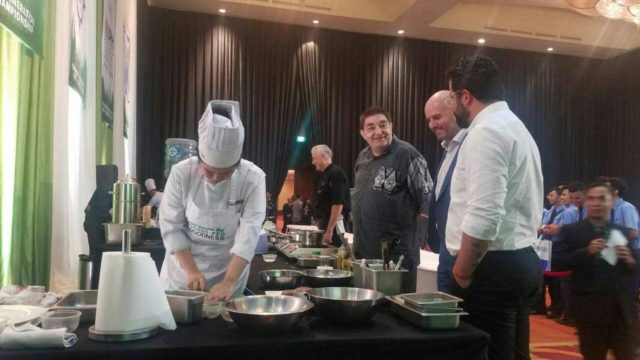 On that day, I'm going to Ritz Carlton on 6pm with Evani, David and Kevin. Everything is well prepared, but I'm still a little bit worried. Chef Nurul once told me "winning is a bonus for you, I never ask you to win. But you need to give your best" and also David ever told me "you asked to God, but you worried. So, why you asked to God?" I always remember that. When I arrived on Ritz Carlton, my heart beat faster. I looking all around the hall while I preparing my station, and suddenly I'm staring at other's contestant station. Evani told me "Dev, don't ever care about what others make. Just focus on what are you going to make. Your station is your dancing stage. Just keep dancing and enjoy it." 45 minutes isn't a long time, so I need to decided either I enjoy it not. I choose to enjoy it and start to focus on what I'm going to do. Once the countdown starts, I never let anyone to stop me.
After 45 minutes, we need to deliver what we made to judges. After all of the judges judging us, they need to decided who will be the winner. When the envelope that has 3 names on it deliver to the MC, me and other contestants was excited and curious. And the MC tell us "and the 3rd winner goes to…. Binus University". I never expect that, it's unbelievable. With the big smile on my face, I'm going to the stage and meet all the judges.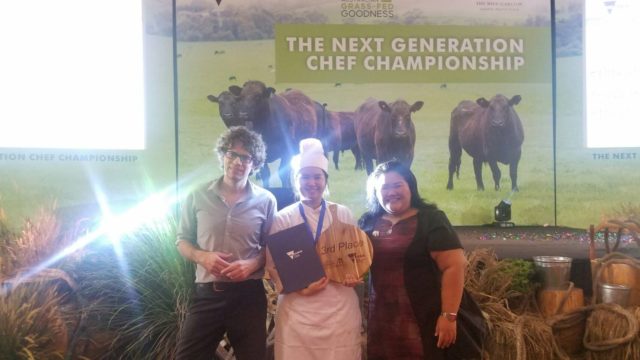 I thank to God, to my family, to all of my friends for always supporting me. Especially I thank to Chef Nurul, Evani and Hana that always never give up on me even when I'm down. I thank to David, Kevin and Nathanael also that already come to Ritz Carlton and supporting me while I'm doing the live cooking. It's such a blessing to have the experiences like this. I realize something beautiful after this. Be kind, be humble, do your best and let God do the rest. Because once I heard Chef Tim said to Miss Yuli, that I was good because I always smile and have a confident. And I'd like to make other people happy. 😊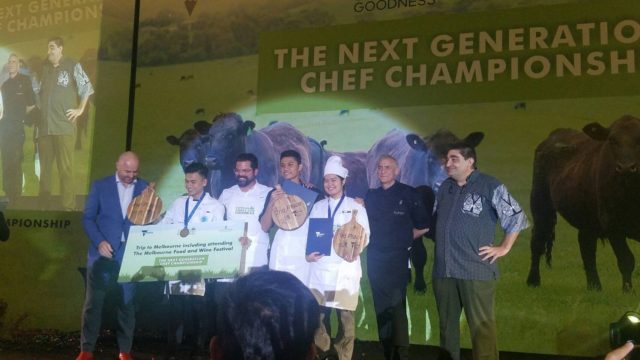 Congratulation Devina…