Hello, warmest greetings to all readers!
Have you planned what will you do after being graduated from BINUS University? Open a business and be an entrepreneur? Apply CV to a company and work? Continue your study? Get married? Life always gives you some options, you have the right to choose your own choice and live up your dreams. Here, I offer you another option: join Management Trainee Program (MTP).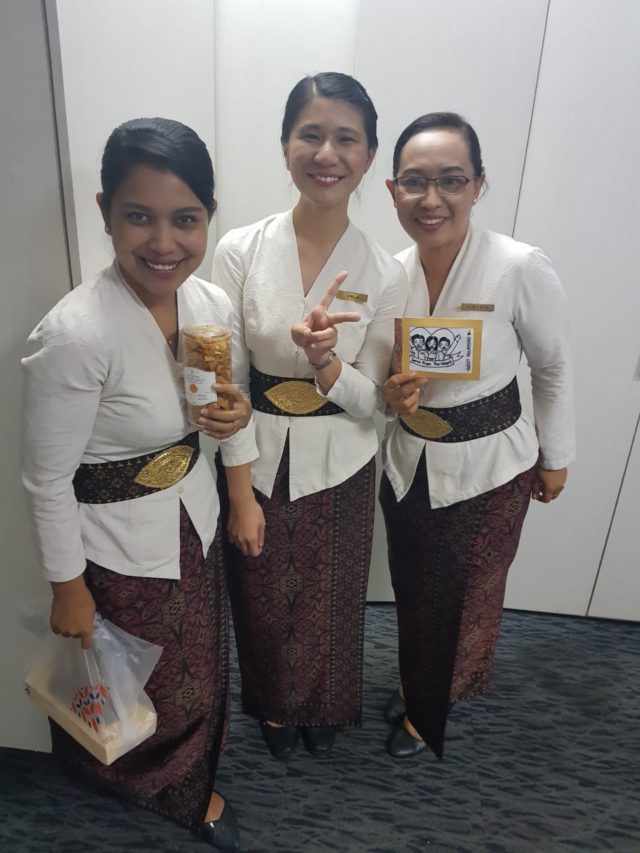 What is Management Trainee Program (MTP)?
The terms of Management Trainee Program is popular nowadays to prepare individuals as future leaders within the company. This program usually will provide individuals with a lot of training and development programs and the graduates of this program are usually expected to be a manager or supervisor. As we can see hospitality sector is growing rapidly, hotels are being built everywhere, so they need a lot of qualified hotel leaders too in order to maintain the business.
Then, I chose to join Management Trainee Program at AYANA Resort and Spa Bali.
How about Management Trainee Program of AYANA Resort and Spa Bali?
The first MTP at AYANA Resort and Spa Bali started in 2016. Management Trainee Program is open for Rooms Division and Food & Beverage Division. Overall, the duration of the program is 2.5 years and after the Management Trainee graduated from this program, he or she will be contracted for minimum 1 year as employee with expected job position is to fill assistant manager, but it will be assessed based on MT performance and job position available. This year (2017), AYANA was looking for only 1 Management Trainee in each division.
What Qualifications Needed to be a Management Trainee of AYANA Resort and Spa Bali?
Indonesian, maximum 25 years old with hotel experience or educational background, fresh bachelor degree graduate with minimum GPA of 3,00 (out of 4,00), have ability to read, write, and speak English and Bahasa effectively, intellectual capacity to learn and apply new content easily, passion for coaching, training, or developing people, a team player, ability to interact with people and build trust and respect, ability to communicate concepts and idea effectively, ability to plan and organize information, people, and events for specific goals.
What Are The Benefits?
It is a big deal as management trainee that we will be coached by hotel professionals and experienced mentors which are capable to grow the management trainee. Management trainee will also get adequate salary, accommodation (dormitory) and daily meal provided 3 times a day at employee's cafeteria.
In my perspective, I see Management Trainee of AYANA Resort and Spa Bali provides a big opportunity to learn and give intensely. As management trainee, the individual will be enriched with a lot of hotel knowledge, coached by hotel leaders which can help us to reach our best potential. On the other hand, at the same time, we can also develop people by what we have learned. The best gift we can give to others is improving them because once we teach them, we give our presence, time, skill and attention for them. If you agree with me, you wish for a meaningful life and want to build career in hospitality, you have to apply on Management Trainee Program of AYANA Resort and Spa Bali.
Bonus! Tips for You
If you are interested to apply, here are some tips that I can recommend to you. Hopefully it will be useful for you!
Outstanding CV
What makes a CV outstanding? Make your CV distinctive, you can make a creative CV (see some examples on google). However, make sure your creativity does not make the CV is hard to understand by the reader. Write down your experience and accomplishments on CV, make it concise (not more than 2 pages). Lastly, check your spelling and grammar.
Personalized Application Letter
Personalized application letter consists of how well you know the company, your dreams, skills, experience and what you can do for the company. If you have no idea, you can read business insiders for some tips.
Practice Yourself for Interview
We often get nervous when we face interview. One of big factor causes our nervousness is because we are lack of preparation. That is why, you have to browse for job interview questions on google, watching youtube for interview techniques, ask your friends or seniors to be your partner in practicing interview prior to your real interview.
Be Your Best-self
During interview, just believe in yourself. Stay focus by listening attentively to the interviewer, smile and speak. Remember, there are no wrong or correct answers, it depends on the way you bring the answer to the interviewer. Address the interview by her or his name, answer your best!
That is all what I can share with you for now. Wishing all for the best of our future and never give up! 😊
Stella Nathalia Ignacia
1701300893