Carica Sour and Spicy Prawn in Yellow Sauce
Carica, Buah Cantik Rasa Unik dari Dieng
Long Weekend kemarin saya kembali melakukan touring yg merupakan hobby saya. Sebagai chef, saya senang touring ke berbagai tempat untuk melihat keindahan pemandangan dan mencicipi kuliner khas dari masing-masing daerah. Kali ini saya mengunjungi dataran tinggi Dieng, Wonosobo, Jawa tengah. Di dieng ini sangat terkenal dengan buah carica.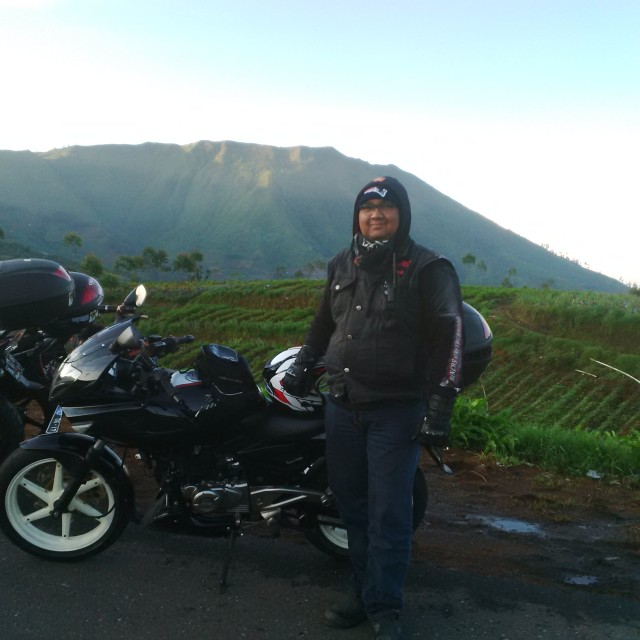 Carica? Nama yang agak unik ya? Ternyata diambil dari nama latinnya pepaya yaitu Carica. Rasa buah aslinya sepet agak asam tetapi rasa bijinya manis. Oleh penduduk dieng, Carica diolah menjadi manisan yang enak sekali. Rasanya yang manis dan segar sangat cocok untuk dinikmati saat matahari sedang terik-teriknya.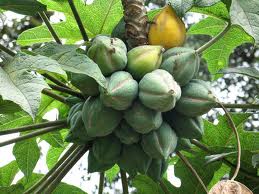 Buah ini aslinya tumbuh di dataran tinggi Andes, Amerika Selatan. Carica dibawa ke Dieng pada masa perang dunia ke II. Carica hanya bisa tumbuh di dataran tinggi basah, idealnya 1500 – 3000 meter di atas permukaan laut.
Ternyata Carica ini banyak manfaat baiknya. Carica mengandung kalsium, gula, vitamin A dan C. Buah ini katanya cocok dimakan untuk orang yang pencernaannya lemah. Carica bisa diolah menjadi manisan, sirup atau selai. Kalau di tanah asalnya di Amerika Selatan, Carica "disulap" menjadi obat penyakit kulit, bahan kosmetik dan minuman alkohol ringan.
Selama ini Khasiat buah Carica yang diketahui umum adalah kemampuannya membantu memperlancar pencernaan makanan. ternyata, selain itu Carica juga memiliki khasiat lain. beberapa diantaranya:
Carica banyak mengandung enzim Papain, yaitu enzim yang berfungsi mempercepat proses pencernaan Protein. Enzim papain dalam buah pepaya mampu mencerna zat sebanyak 35 kali lebih besar dari ukurannya sendiri, itulah kenapa meski kandungan Protein dalam buah Carica tidak terlalu tinggi (4-6 gr) namun hampir selurunya dapat diserap oleh tubuh dan sangat berpengaruh pada produksi hormon pertumbuhan manusia. Bahkan penelitian baru-baru ini menunjukan kandungan Arginin pada buah carica dapat menghambat pertumbuhan sel-sel kanker Payudara.
Kandungan Papain dalam buah Carica juga memiliki sifat antiseptik dan membantu mencegah perkembangbiakan bakteri yang merugikan di dalam usus. Membantu menormalkan pH usus sehingga keadaan flora usus pun menjadi normal.
Kandungan Vitamin C dalam buah Carica lebih tinggi dari kandungan Vitamin C pada jeruk. Carica juga memilik kandungan Vitamin A yang lebih tinggi daripada Wortel. Selain itu Carica juga kaya dengan vitamin B kompleks dan Vitamin E yang tentunya baik untuk kesehatan.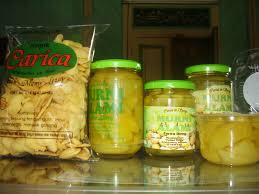 Produk olahan dari buah carica yang saya temui adalah carica dalam sirup, selai carica, dan keripik carica. Produk ini merupakan produk khusus dari Dieng dan selalu dicari oleh turis sebagai hadiah.
Nah, disini saya dan rekan saya Chef Ulya mencoba melakukan inovasi memasak menggunakan buah carica. Siapa tau aja disukai dan bisa memperkaya ragam jenis Pengolahan buah carica. Ini hasil percobahan saya dan Chef Ulya memasak buah carica yang biasa dijadikan makanan manis atau dessert tetapi kami olah menjadi sayur untuk dimakan dengan nasi. Masakan tersebut kami beri nama Carica Sour n Spicy Prawn in Yellow Sauce.
Carica Sour n Spicy Prawn in Yellow Sauce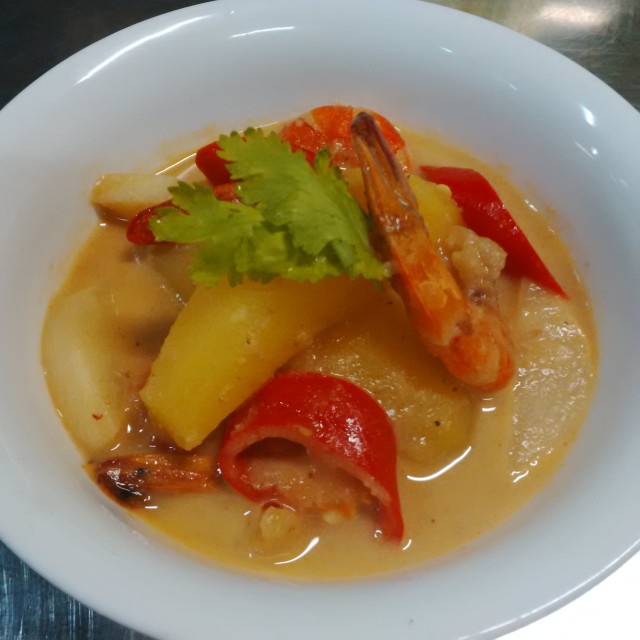 Ingredients :
1st preparation :
– 3 piece Carica Cut in wedges
– 500 gr Skinless prawn, leave the tail
– 1 piece Jicama cut in jardinière
– 1 piece Tomato cut in wedges
– 3 piece Big Red Chilli cut in French
– Coriander leaves
2nd preparation :
– Hot water
– Beef bones
– Beef fat
– Candle nuts, brown in a pan
– Coriander seed, grind with mortar and pestle
– Garlic
– Shallot
– Onion
– Ginger
– Turmeric
– Salam leaves
– Lime leave
– Lemongrass
– Salt n pepper to taste
Cooking method
1. Sauted prawn with beef fat. Set aside
2. Browned beef bones and fat + grinded candlenuts and coriander put back into pan, stir in slow heat
3. Add whole herbs and spices in 2nd preparation.
4. And pour in the water, keep cooking in slow medium heat, for it to reduce by half.
5. Take out the lemon grass, salam leaves, turmeric, ginger, beef bones, beef fat, half part of lime leaves and put in a processor to blend the sauce all together which will make a yellow sauce.
6. Heat another pan, put the prawn in, toast for a minute then pour the yellow sauce.
7. Bring all 1st preparation in then simmer for couple minutes
8. Season with salt and pepper
9. Serve with coriander leaves on top